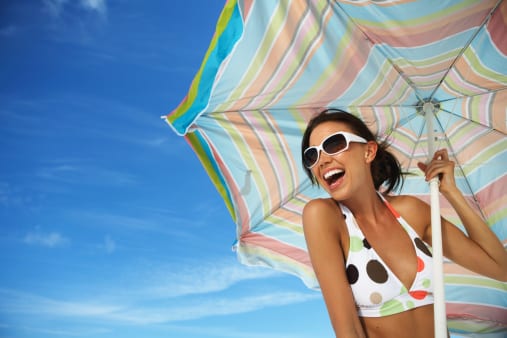 You know your options when it comes to getting a slimmer look. Coolsculpting can freeze away unwanted fat from certain areas while liposuction can surgically remove that fat. Body lift procedures, such as a tummy tuck or thigh lift, trim away extra skin and create a smoother, slimmer look in an area.
The trouble is, these procedures take time. You'll need a few weeks, at the very least, to recover from a thigh lift, tummy tuck or liposuction. While you can get back to your regular life quickly after Coolsculpting, it can take several months before you notice visible results. What can you do if you want to look slimmer on vacation or if you want a bikini body, but don't have the time for a full surgery or to wait for Coolsculpting to work?
One option might be weekend liposuction. Similar to traditional liposuction, weekend liposuction surgically removes unwanted fat. But the procedure and recovery are much shorter than they are for traditional liposuction, so you can find yourself on the beach in no time.
Get a Slimmer Look With Weekend Liposuction
The goal of weekend liposuction is to remove unwanted fat from certain areas of the body. Typically, the fat in the area hasn't responded to exercise or diet. Like traditional liposuction, weekend liposuction is a good option for people who are near their goal weight or at it, but not for people who are hoping to lose a considerable amount of weight. The treatment works best when performed in specific areas, such as the love handles, saddlebags, and the lower abdominal area.
One of the key ways that weekend liposuction differs from traditional liposuction is the size of the cannulas, or suction tubes, used. Weekend liposuction uses very small tubes, usually less than 2mm, to remove fat and sculpt the body. Since the tubes are so small, smaller incisions can be made at the start of the procedure. The smaller size cannulas also cause less trauma to the tissue around the treated area, minimizing bruising and shortening recovery time. Because of their small size, the surgeon is able to delicately sculpt and refine the treated area using the cannulas.
Is Weekend Liposuction Right for You?
Like most surgeries, weekend liposuction isn't the right choice for everyone. If you still have a considerable amount of weight to loose, it's best to focus on weight loss efforts rather than on sculpting. Your surgeon can discuss weight loss options with you, ranging from diet and exercise to bariatric surgery, if needed.
It's not just your fat that plays a role in determining whether or not weekend liposuction is right for you. Your skin also plays a part. Ideally, your skin will still have a fair amount of elasticity and will be free of stretch marks. Elastic skin will bounce back once the fat is removed and drape smoothly and evenly over the treated area, instead of hanging loose or sagging.
Your overall health is important, too. Let your surgeon know about any conditions you  have or any medications you are taking, even vitamin and herbal supplements. Some medications can increase the risk for bleeding or other complications.
What Happens After Weekend Liposuction
True to its name, initial recovery after a weekend liposuction typically takes about a weekend. Many patients schedule their procedure for the end of the week, usually a Thursday or Friday, then use the weekend to recuperate.
Since the incisions and cannulas used are so small, general anesthesia is usually not used during the procedure. It's often performed with just local anesthesia or with a local anesthesia and very light sedation, depending on a patient's preference.
Right after the surgery, people usually take about 30 minutes to recover in the office. Once they return home, they can rest up for a few days. If they schedule surgery at the end of the week, many people are back in the office by Monday.
While the results and recovery from the procedure are quick, it's still important to take it easy and not push yourself. Your surgeon will most likely give you a special garment to wear around the treated area for a few weeks. The garment will help reshape the area and will reduce sagging of the skin. Although you'll want to show off your new shape, it's best to wait for your surgeon's go-ahead before you put on a swimsuit and head to the beach or pool. For the most part, people are usually fully healed within three months of a weekend liposuction procedure.
Ready to get a slimmer look quickly? Schedule a consultation with Dr. Alain Polynice, a board certified plastic surgeon who specializes in body contouring procedures, today. Call  (800) 742-2797 to book your appointment!