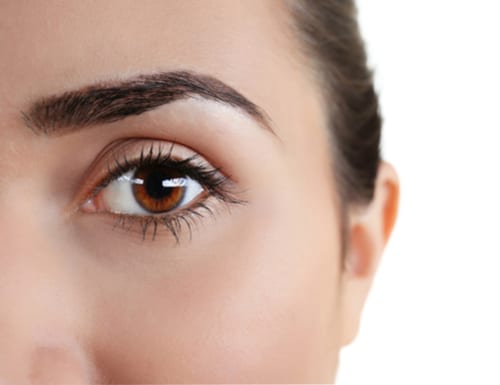 Aging skin around the eyes can cause people to look older than their true age, and similarly it can result in a perpetual "tired" look. Blepharoplasty is the term given to the surgical procedure designed to rejuvenate the eyelids. Blepharoplasty can be performed on the upper eyelids, lower eyelids, or both. There are several different blepharoplasty techniques, which are intended to correct specific aspects of eyelid aging.
Why Get Blepharoplasty?
One form of eyelid aging is called pseudoherniation of fat, and this is responsible for "eyebags" or puffiness around the eyes. Some blepharoplasty techniques are very effective at correcting this problem, but we will not discuss those here. Another form of eyelid aging involves excess, wrinkly, or "crepey" skin. This can affect both the upper and lower eyelids, and in severe cases this can be seen as a "flap" of skin that can cause vision impairment. Sliver blepharoplasty is the name of the procedure designed to correct this excess skin.
The Sliver Technique
Sliver blepharoplasty can be performed in the office or the operating room, and it can be done under varying levels of anesthesia, from fully awake to fully asleep. Many patients choose to have the procedure done in the office while they are fully awake, using only local anesthesia. In these cases, the excess skin is marked and a small amount of lidocaine is injected into the lids. The excess skin is then removed with surgical scissors, and the area is repaired with tiny stitches. This entire procedure takes approximately thirty minutes, and if only local anesthesia is used, then the person can even drive themselves home. Pain after the procedure is typically very mild and easily managed with Tylenol. Swelling and bruising are similarly mild, and they are easily camouflaged with glasses. In general, people are ready to be back in the public eye within a week.
Why Take The Sliver Approach to Blepharoplasty?
Overall the sliver blepharoplasty is a very straightforward and effective method to remedy excess skin of the upper and lower eyelids. The results are immediate and permanent. However, blepharoplasty does not stop the aging process, and the eyelids will continue to age over time. Some patients return many years later to have the procedure performed a second time, and this procedure is equally as safe and straightforward as the original procedure. As previously mentioned, one limitation of the sliver technique is that it is not tremendously effective for correcting "eyebags", and it must be combined with other blepharoplasty techniques for patients with this problem. In most cases, sliver blepharoplasty is considered a cosmetic procedure, but sometimes it can be covered by insurance. Insurance may cover the procedure in patients with excess upper eyelid skin that impairs their peripheral vision, and whose Ophthalmologists have performed the appropriate testing confirm this diagnosis. Sliver blepharoplasty does not have to be performed in isolation, and it is commonly performed in conjunction with other cosmetic facial procedures, including facelift, fat transfer, chemical peels, and others. The overwhelming majority of patients who undergo sliver blepharoplasty are thrilled with the procedure and their refreshed appearance.