Liposuction is the one of the most commonly performed body contouring procedure in the Williams Center for Breast and Body Contouring. Liposuction involves removal of fat in specific problem areas with small tubes or canulas connected to a vacuum aspiration device. The best results are obtained when liposuction is used to target specific areas. Liposuction is not performed for the purposes of weight loss. Liposuction does reduce the net number of fat cells, making it more difficult to gain weight again in the treated areas. The overall effect of liposuction is an improvement in body contour therefore it will appear as though you have lost a significant amount of weight.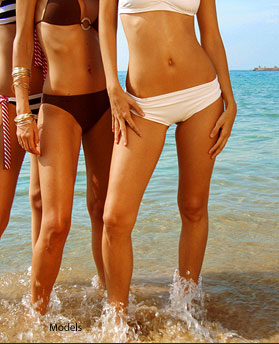 Exercise is good for the mind and body in general, and toning the muscles can help fill out loose skin in the vicinity. By suppressing the appetite, and by slightly increasing the metabolism, exercise can assist weight loss. But, unfortunately, there is no such thing as a "spot" exercise, to make the body lose weight in a certain area. Troublesome areas, typically the chin, abdomen, hips or thighs, have an inherited tendency to accumulate fat, and there is so far no way, exercise or pills, to force the body to selectively burn away that fat. To date, only liposuction can accomplish that. For many of Dr. Alain Polynices patients, after having the liposuction procedure performed the positive self image they now see creates a higher sense of self esteem.
Dr. Alain Polynice offers liposuction for many different parts of the body including the abdomen, hips, thighs, buttocks, arms, knees and calves. In the hands of a board certified plastic surgeon such as Dr. Alain Polynice liposuction is one of the safest procedures performed. Should you be interested in liposuction of the neck, jowls, cheeks or other areas of the face you should speak with Dr. Edwin Williams – Board Certified Facial Plastic Surgeon.
Liposuction is performed via small incisions that are placed carefully so that the resulting scars are imperceptible. Depending upon the area being treated most scars can be hidden in the natural folds of your body. Examples include, incisions are placed behind your knees for liposuction of calves also incisions are placed in your belly button and hair line for liposuction of the lower abdomen.
Dr. Alain Polynice performs the liposuction as an outpatient procedure at the New England Laser and Cosmetic Surgery Center which means you can go home after surgery. Dr. Alain Polynice does require that a competent adult spends the first day with you after liposuction.
After the procedure you should expect pain, swelling and bruising in the areas that where treated. Pain medications are generally needed for a few days, and then most patients rapidly become more comfortable. Dr. Alain Polynice recommends that his patients to wear a support garment for 6 to 8 weeks after surgery. Once the swelling has resolved you will see the full effect of the liposuction.
Complications of liposuction are rare. There will be bruising and swelling in the treated areas but this is to be expected. If all areas are not treated evenly there can be some irregularities following liposuction; this is very unusual due to the care that is taken to perform the Lipo-sculpture symmetrically. At the time of your initial office visit; we will perform a careful physical examination to identify all problem areas than can be treated effectively with liposuction. All of your questions will be answered at that time.
Liposuction is a safe and excellent tool to treat specific areas in the body what there are deposits of fat that do not respond to exercise or diets. It is not used for weight loss and is not effective when there are significant amounts of excess skin or stretch marks. We will discuss with you what your goals are and how these can be best achieved.
The fat that was removed by liposuction cannot come back unless one gains weight again, in which case all body areas will share in the weight gain. Someone gaining weight after liposuction is more likely to notice the increased fat being deposited in other areas which did not get liposuctioned. That is the reason for the incorrect speculation that after liposuction, "some other area will just get fat". Only if one gains weight would an increase occur.
Click here to view Post-op Care Instructions
Click here to view Before and After photographs of Body Contouring (Liposuction)
*Patient Results May Vary