Surgical Fat Reduction in Albany, NY
One of the most common body contouring procedures performed by Dr. Alain Polynice at the Williams Center for Breast and Body Contouring is liposuction. Albany, NY, area men and women who choose the surgical procedure should know that it involves removal of fat in specific problem areas with small tubes (or cannulas) connected to a vacuum aspiration device. The best results are typically obtained when liposuction is used to target specific areas.
Liposuction is not performed for the purposes of weight loss. It does, however, reduce the net number of fat cells, making it more difficult to gain weight again in the treated areas. The overall goal of this procedure is an improvement in body contours. When performed strategically and with skill, the surgery can make it appear as though you have lost a significant amount of weight.*
To request a consultation for liposuction in the New York area, contact the Albany, NY-based Williams Center for Plastic Surgery online or by phone at 1-800-742-2797.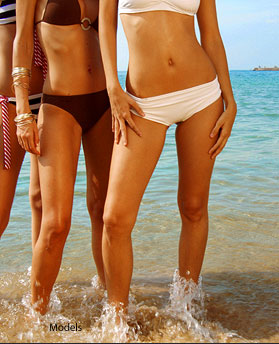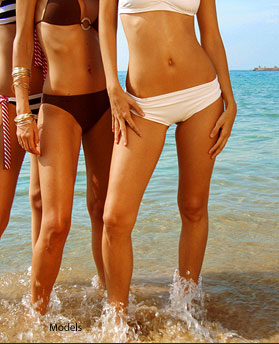 What About Exercise for Fat Reduction?
Exercise is good for the mind and body in general, and toning the muscles can help fill out loose skin in the vicinity. By suppressing the appetite, and by slightly increasing the metabolism, exercise can assist weight loss. But unfortunately, there is no such thing as a "spot" exercise to make the body lose weight in a certain area. Troublesome areas—typically the chin, abdomen, hips, or thighs—have an inherited tendency to accumulate fat. This is known as "stubborn" or "diet-resistant" fat.
There is so far no way with exercise or pills to force the body to selectively lose fat in a specific area alone. Liposuction, however, is ideal for accomplishing that. For many of Dr. Alain Polynice's patients, their more positive post-procedural self image creates a higher sense of self esteem.
Why Choose the Williams Center for Liposuction in Albany, NY?
Dr. Alain Polynice offers liposuction for many different parts of the body, including the abdomen, breasts, hips, thighs, buttocks, arms, knees, and calves. In the hands of a board-certified plastic surgeon such as Dr. Alain Polynice, liposuction can be one of the safest procedures performed. Should you be interested in fat reduction of the neck, jowls, cheeks, or other areas of the face, you should speak with board-certified facial plastic surgeon Dr. Edwin Williams.
Both doctors have years of education and experience with helping patients achieve natural-looking contours via liposuction and other procedures and treatments. They will work with each patient to develop a plan that capitalizes on the numerous services available at the Williams Center, as well as on their particular skill sets and eye for aesthetics.
What Happens During a Liposuction Consultation?
At the time of your initial office visit, we will perform a careful physical examination to identify problem areas that can be treated effectively with liposuction. Your questions can be answered at that time, and we will discuss with you what your goals are and whether liposuction represents your best option for achieving them. This is also a good time to review expectations and emphasize that this procedure is intended for women and men who are already near their ideal body weight; it is not a weight-loss solution and is not effective when there are significant amounts of excess skin or stretch marks.
In some cases, Dr. Polynice may recommend a tummy tuck, designed to address loose skin, as well as the lax abdominal muscles that can leave a belly looking flabby. Liposuction is often a component of tummy tuck, removing small amounts of fat to better help the abdominal skin sit as flat as possible once it has been pulled tight.
You can be confident you'll be in good hands with double-board certified facial plastic surgeon Dr. Edwin Williams:
25 years of experience and counting! Learn More!
A respected national educator on advanced rhinoplasty.
An expert in closed rhinoplasty techniques.
Great results you can see for yourself!
See our Photo Gallery.
Featured on ...
Does Liposuction Leave Scars?
Liposuction is performed via small incisions that are placed carefully so that the resulting scars are as inconspicuous as possible. Depending upon the area being treated, most scars can be hidden in the natural folds of your body. For example, incisions are placed behind your knees for liposuction of calves, in your belly button for the lower abdomen.
What Are the Liposuction Details?
After the administration of an anesthetic to dull sensation in the area, Dr. Alain Polynice will make the necessary incisions in the targeted area. He will then insert a cannula, using it to loosen the fat cells from any connective or other tissue. The more liquefied fat can then be suctioned out.
When the necessary amount of fat cells have been removed, Dr. Alain Polynice will carefully close the incision, repeating these steps—incision, insertion, loosening, suction, and closure—on other areas if required. Some patients who want to slim down multiple areas choose to have all of the work done at once, keeping themselves from multiple surgeries with multiple recuperation windows. This can be discussed during your consultation if that is a possibility for you.
What Should I Expect After Liposuction?
Dr. Alain Polynice performs liposuction as an outpatient procedure at the New England Laser and Cosmetic Surgery Center, which means you can go home after surgery. Dr. Alain Polynice does require that a competent adult spend the first day with you after your liposuction procedure.
In the following days, you should expect pain, swelling, and bruising in the areas that were treated. Pain medications are generally needed for a few days, and then most patients rapidly become more comfortable, though every patient's healing schedule is unique. Dr. Alain Polynice recommends that his patients wear a support garment for six to eight weeks after the procedure. Once the swelling has resolved, you will be able to better see the effect of your surgery.
Click here to view post-op care instructions.
Complications of liposuction are rare. There will be bruising and swelling in the treated areas, but this is to be expected. If all areas are not treated evenly, there can be some irregularities following liposuction; this is very unusual due to the care Dr. Alain Polynice takes to perform the lipo-sculpture symmetrically.
The fat removed by liposuction cannot come back unless you gain weight again, in which case the weight gain will likely be distributed across all of your body areas*. However, after liposuction, the treated areas have been shown to have a decreased capacity for additional fat, because so many of the fat cells have simply been removed. Remember that there are still fat cells present, so some increase in a treated area is to be expected with weight gain. For that reason, someone gaining weight after liposuction is more likely to notice the increased fat being deposited in areas that did not get liposuctioned. Some people incorrectly believe that after liposuction, "some other area will just get fat"—that's if you gain weight, leading to an increase, not due to a spontaneous appearance of fat.
Click here to view before and after photographs of body contouring (liposuction).
Weekend Liposuction in Albany, NY
Liposuction remains one of the most commonly performed procedures in body contouring surgery. However, the technique of weekend lipo-sculpting has become even more popular still.
With this technique, very fine cannulas measuring sometimes less than 2 mm. are used to sculpt and contour a specific area of the body. This achieves the result of very fine sculpting with minimal trauma to the tissues. The procedure can be done with local anesthesia, which means the patient is awake but comfortable and experiencing minimal discomfort. If larger areas are to be treated or if patients are a little anxious, local anesthesia can still be used—but paired with very mild sedation. This has the added benefit of giving the patient a very quick and easy recovery. There are no associated issues related to general anesthesia, such as sore throat, nausea, or vomiting post-op, since there is no intubation with this technique. Patients recover very quickly and are often out of the recovery area within 30 minutes to an hour. The procedure is called Weekend Liposuction because very often it is performed on a Thursday or Friday, and most patients can return to work by the following Monday.
Who is the Ideal Patient for Weekend Liposuction?
The ideal patient for this procedure is someone who has a target area that does not respond to diet or exercise. The ideal patient will also have minimal stretch marks in the area so that when the sculpting is performed, the skin can re-drape and conform to the newly sculpted area. After this procedure, you should expect to have a moderate amount of bruising that typically resolves after one week and swelling that usually lasts about six to eight weeks. Complications are very unusual since, again, this is done through very small incisions that are closed with internal sutures and usually heal very nicely and are not noticeable by three months post-op.
As always, liposuction is a very safe and excellent tool to treat specific areas in the body where fatty deposits do not respond to diet and exercise. The Weekend Liposuction procedure adds the benefit of a very quick and painless recovery and allows patients to return to their normal activities much faster.
What Areas Can Be Reduced With Weekend Liposuction?
Because Weekend Liposuction is intended for precision contouring, it is not used on general regions, but on specific areas of the body and face. This allows for significant customization.
For the body, Weekend Liposuction options from Dr. Alain Polynice include the lower abdomen and inner thighs. He can target saddlebags that start on the hips, and love handles on the flanks.
Dr. Edwin Williams performs Weekend Liposuction on the neck. For some patients, he pairs neck lipo with implants for chin augmentation, which provides more definition overall for the lowest third of the face.
Is There More That Can Be Considered a Weekend Procedure?
Dr. Edwin Williams offers a Weekend Neck/Facelift, which addresses signs of aging on the lower third of the face, including a turkey neck, double chin, marionette lines, and more. Liposuction can be a part of this procedure, specifically to remove unwanted fat cells below the chin. It can also involve muscle tightening and the excision of sagging skin.
Is There a Nonsurgical Alternative to Liposuction?
For patients not yet ready for surgery, the Williams Center offers Kybella®, an injectable that disrupts the fat cells that make up a double chin. No incisions are required for this treatment limited to the submental area.
LipoDissolve® works on a similar premise, but the use of this injectable has raised many questions about its safety and efficacy, which has prompted the Williams Center to wait and watch as studies are carried out.
CoolSculpting® lowers the temperature of fat cells until they are damaged, leading to their natural removal from the body. Results from this treatment are gradual, but require no incisions or sutures.
If you're considering liposuction in the Albany, NY, area and want to consult with an experienced New York-based facial plastic surgeon, call the Williams Center at 1-800-742-2797 today!
*Patient testimonials. Results may vary